Classes, Training, and Consulting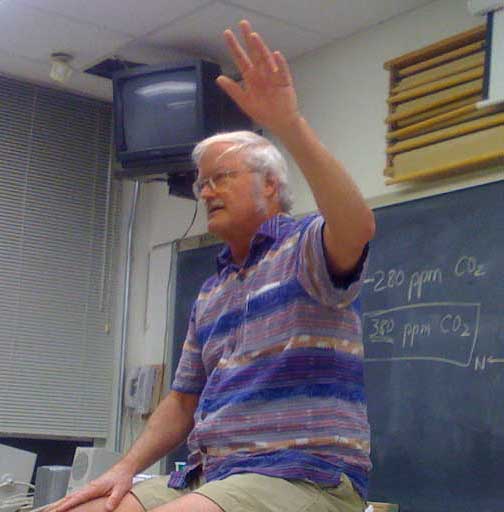 Consulting:
Joe has been providing solar and renewable energy consultation for individuals, businesses, industry and agriculture, school districts, non-profits, indigenous tribal councils, and municipalities on
system design and installation
course development
power purchase agreements
energy efficiency
community choice aggregation
for over twenty years. If you or your organization are considering a solar, renewable or energy efficiency project, and you have questions, contact Sky Power today for a free initial consultation.
Courses:
San Jose State University

Math 71 - Calculus Syllabus
Meteorology 112 - Global Climate Change Syllabus

Cabrillo College: Fundamentals of Renewable Energy Systems, Solar Photovoltaic Design and Installation, Passive Solar Design
Known fondly by many of his students as "Cosmic Joe", a moniker he first received as a guest teacher on Dr. Ken Norris' legendary UCSC Field Quarter, Joe Jordan has been teaching and inspiring people of all ages for over thirty years with his "tall true tales of the universe" and the "magic of physics in nature", as well as mentoring and ushering many into successful professions in the solar industry.
Training and Curriculum Development
Around the country, Joe has successfully developed and taught NABCEP programs; Wind, Solar, and Small-Scale Hydro system design and installation; green jobs training for at risk youth; solar schools for a sustainable planet; and green jobs reskilling; in addition to serving as a curriculum developer and consultant for both online as well as text and classroom based courses in math, physics, computer science, and renewable energy. He has been a featured keynote speaker at West Coast Green, Environmental Volunteers at The Stanford Faculty Club, the National Science Teachers' Association, and TED. Some of the organizations he has recently worked with include Solar Living Institute, Solar Energy International, Heatspring, CACTUS, Boots on the Roof, Center for Employment Training, Pacific Technical Institute, Black Rock Solar, San Francisco State University, and Allied Schools Solar and Green Career Training.
Workshops
Joe teaches a number of popular workshops and short courses for people of all ages, in astronomy and physics-in-nature, as well as in renewable energy and climate change solutions. For his current schedule, check the Coastanona >activities calendar or the UCSC Recreation website for Joe's next Stargazing evening at those venues. Contact Joe if you would like to arrange a Sky Power workshop for your organization.
Excursions
Joe is always ready for the next adventure, wherever in the world it may take him! Please give him a call if you'd like to discuss how he might enrich your excursion with a tour of the heavens and tall true tales of the universe, or to find out where his next adventure will lead. Some of Joe's past expeditions include:
Sequoia National Park Natural History Association Delta Aquarid Meteor Shower weekend
Waves & Rainbows, Bubbles & Crystals, Whirlpools & Shadows, Echoes and Mirages: hiking the Sunset Rim in Big Basin State Park
Black Mountain Montebello Open Space Preserve
Discover a secret 100 foot waterfall: hike the Santa Cruz North Coast Big Creek watershed
Southern Sky! Stars of the Galapagos